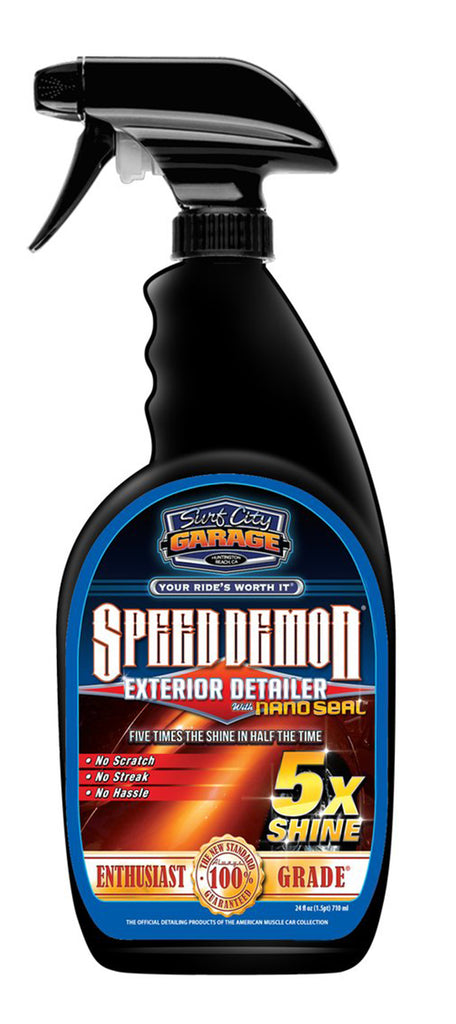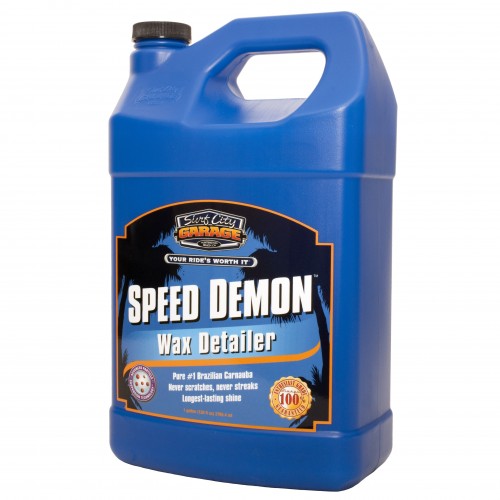 Speed Demon® Wax Detailer
$14.99
$0.00
Product Details
We're going to be upfront with you - if you use this product, people are going to ask you if you got a new paint job. Then you're going to blow their minds when you whip out a bottle of Speed Demon® Wax Detailer, the only detail spray with pure #1 Brazilian carnauba wax that only leaves behind the deepest, richest gloss your paint has ever seen. 
Speed Demon Wax Detailer contains high concentrations of pure #1 carnauba for a long-lasting, streak-free, show car shine. It's Advanced Particle Suspension Technology® allows Speed Demon to be safely used on high levels of dust, completely eliminating the need to wash it prior to using the wax detailer. It 
works to actually suspend dust particles, so it doesn't scratch your paint. It also fends off contaminants and UV Rays longer and without the buildup and streaks that other brands leave in their wake.  Unlike most other brands, Speed Demon doesn't contain low-grade synthetic wax that is prone to streak and wear off quickly.


SKU 100
Special Instructions
(1) Shake before use. (2) Spray a light mist on surface of car. (3) Dry with a clean towel (microfiber or soft cotton). (4) Lightly buff.
Satisfaction Guaranteed
"Give our Enthusiast Grade® detailing products from Surf City Garage a try. If they're not the best you've EVER used, give me a call, and I'll PERSONALLY buy them back."
Tim Miller - Founder, Surf City Garage
SCG QUALITY
No Scratching
No Streaks
No Hassle
Ultimate Shine