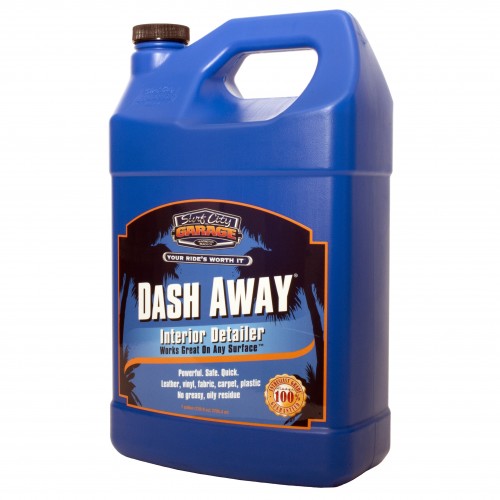 Dash Away® Interior Detailer
$13.99
$0.00
Product Details
Got a dirty carpet, dash, seat, floor, door panel…take a breath…console, leather, cloth or vinyl? Not anymore. No matter what kind of dirt you have or how long it's been there, use Dash Away® Interior Detailer to make it all vanish in minutes. Yes, ALL of it. Dash Away is 100% safe for cleaning every surface and doesn't leave greasy or oily residue anywhere. It also adds powerful UV ray protection to stop the sun from fading your interior surfaces. Keep this one spray in your detailing kit and get rid of any dirt anywhere, any time. Cleaning your interior has never been easier, so go clean it up with Dash Away.

SKU 103
Special Instructions
(1) Shake before use. (2) Mist on. Spray directly on materials. Do not saturate cloth upholstery. (3) Wipe dry. (4) For very stubborn stains, repeat and let Dash Away work for a few minutes before wiping dry.
Satisfaction Guaranteed
"Give our Enthusiast Grade® detailing products from Surf City Garage a try. If they're not the best you've EVER used, give me a call, and I'll PERSONALLY buy them back."
Tim Miller - Founder, Surf City Garage
SCG QUALITY
Safe for ALL interior surfaces
No greasy or oily residue
Long-lasting UV protection