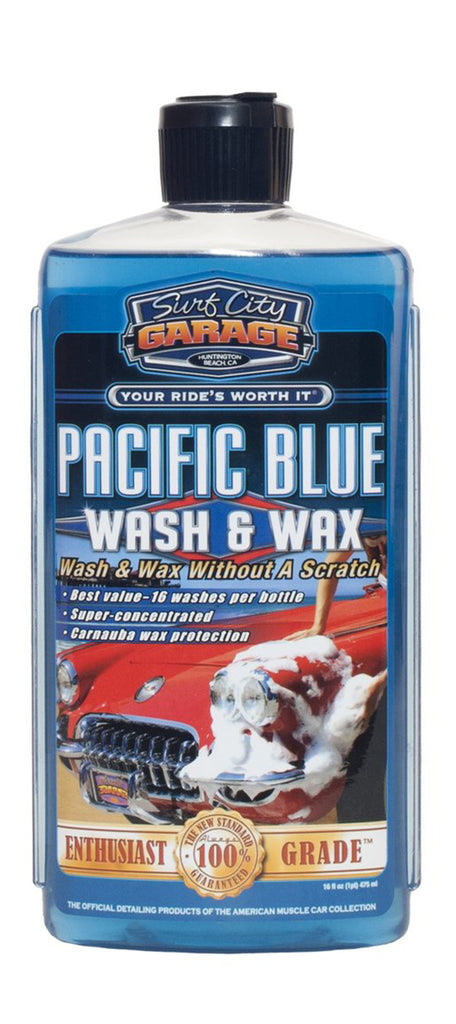 Pacific Blue® Wash & Wax
$14.99
$0.00
Product Details
Did you know the most common way to scratch your car is by washing it? In fact, most paint damage can be traced back to the use of economy car washes. Well … Pacific Blue is the cure for the common scratch. Pacific Blue Wash & Wax is gentle and safe, but leaves the surface clean enough to eat off of. This super-concentrated (32 washes in 32 ounces!), #1 Carnauba wax formula isolates dirt particles so they can't scratch your paint. Wash & Wax without a scratch. You get Carnauba wax protection, it won't strip your existing wax and it even smells great. Not like strawberries, but like the Pacific.
SKU 131
Special Instructions
(1) Product is highly concentrated. Add one ounce (1oz) per gallon of water into a clean wash bucket. Use a hose to add water and create suds. (2) Dip microfiber sponge and wash car from the top down. (3) Rinse suds off with hose.
Satisfaction Guaranteed
"Give our Enthusiast Grade® detailing products from Surf City Garage a try. If they're not the best you've EVER used, give me a call, and I'll PERSONALLY buy them back."
Tim Miller - Founder, Surf City Garage
SCG QUALITY
Super-concentrated
Totally scratch-free
Longest-lasting protection
Best value per wash