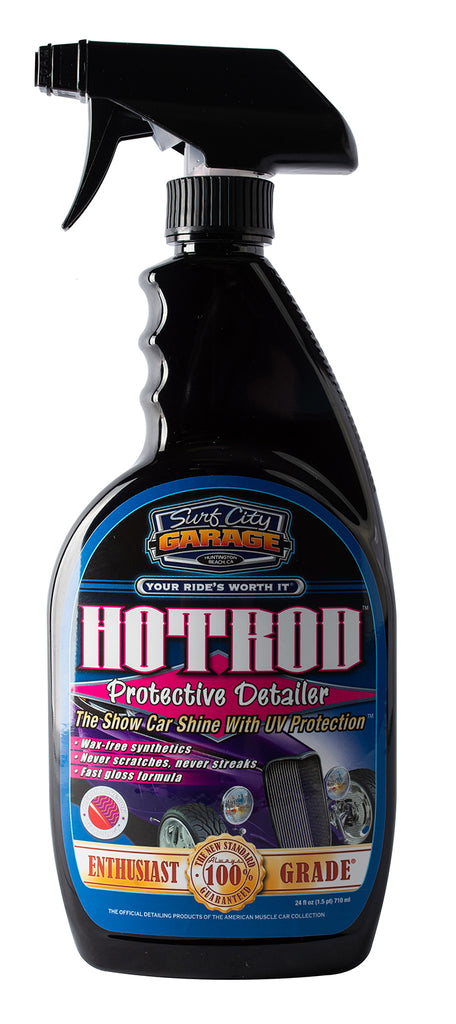 Hot Rod® Protective Detailer
$14.99
$0.00
Product Details
Looking for a quick detailer that actually works? Not just some spray that looks good for five minutes, then shows streaks and scratches once it dries? Quick detailers are not all created equal. What you need is Hot Rod Protective Detailer, a true Enthusiast Grade®, high-tech, wax-free synthetic detailer. It'll never scratch your paint or leave those irritating streak marks. Hot Rod works to give your car a brilliant shine with a fast gloss formula, unmatched UV protection and extended life to your paint. Less work for you – more show-stopping results for your car. For the clear Enthusiast's choice- use Hot Rod Protective Detailer.
SKU 106
Special Instructions
(1) Shake before use. (2) Spray a light mist on surface of car. (3) Dry with a clean towel (microfiber or soft cotton). (4) Lightly buff.
Satisfaction Guaranteed
"Give our Enthusiast Grade® detailing products from Surf City Garage a try. If they're not the best you've EVER used, give me a call, and I'll PERSONALLY buy them back."
Tim Miller - Founder, Surf City Garage