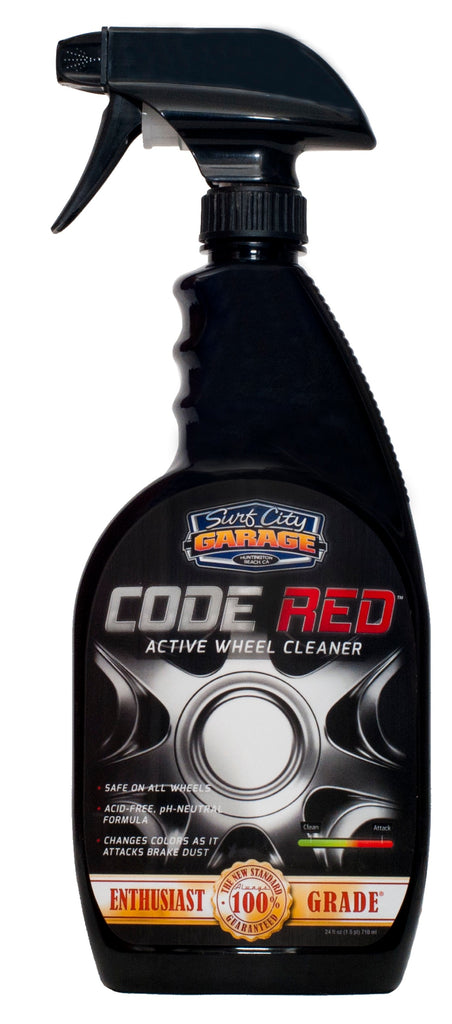 Code Red® Active Wheel Cleaner
$15.99
$0.00
Product Details
Just to be clear – this is not your dad's wheel cleaner, so get ready to spray on and stand back! If you've picked up this product, you're tired of the same old, wimpy wheel cleaner that's weak, dull & short-lived. Are we right? Then we dare you to call in a Code Red®! Your wheels take a beating from the road and Code Red® Wheel Cleaner is just what you've been waiting for! Its acid-free formula actively hunts down brake dust & other contaminants, making it the most effective product for cleaner, brighter wheels. Watch as its Advanced Reaction Technology™ moves in on the grime, turning from green to red as it's working. 
SKU 110
Special Instructions
We always recommend testing on a small area first. (1) Saturate cool, dry wheel with product. (2) Let sit for 2-3 minutes as product turns from green to red, but do not allow product to dry. (3) Rinse completely with a strong hose stream or pressure washer to reveal cleaner, brighter wheels. Rinse before product dries.
Satisfaction Guaranteed
"Give our Enthusiast Grade® detailing products from Surf City Garage a try. If they're not the best you've EVER used, give me a call, and I'll PERSONALLY buy them back."
Tim Miller - Founder, Surf City Garage
SCG QUALITY
Safe on all factory-finish wheels
Acid-free, pH-Neutral formula
Attacks brake dust