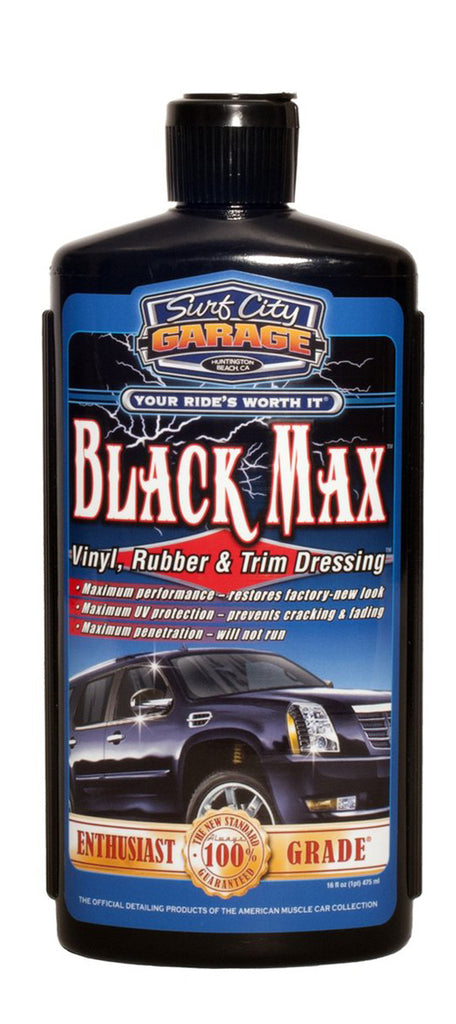 Black Max™ Vinyl, Rubber & Trim Dressing
$11.99
$0.00
Product Details
Got cloudy gray trim, but want the black back? Black Max here to save the day. Vinyl, rubber and plastic will look showroom new in minutes, no matter what color they are. Finally, a dressing that's a cream so it stays on the car, not dripping to the ground. Black Max contains powerful UV blockers to stop or prevent bleaching and cracking from the sun. The finish isn't greasy or glossy, so you get a perfect factory-new look. You don't have to apply this stuff often because it lasts through dozens of washes and even rain. Keep Black Max in your detailing kit for a showroom look that lasts.

SKU 127
Special Instructions
(1) Shake well. (2) Apply to applicator or microfiber towel. (3) Use towel to apply to trim. Allow a few seconds for product to penetrate. (4) Wipe off. Note: Black Max is safe for all surfaces. If you accidentally apply to unwanted surface, simply wipe off with a clean towel.
Satisfaction Guaranteed
"Give our Enthusiast Grade® detailing products from Surf City Garage a try. If they're not the best you've EVER used, give me a call, and I'll PERSONALLY buy them back."
Tim Miller - Founder, Surf City Garage
SCG QUALITY
Maximum performance – restores factory-new look
Maximum UV protection – prevents cracking & fading
Maximum penetration – will not run