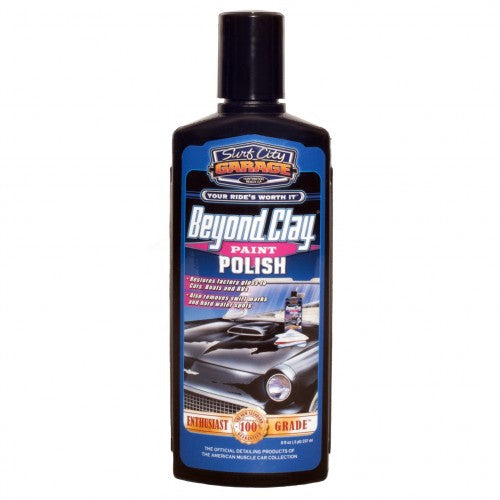 Beyond Clay® Paint Polish
$26.99
$0.00
Product Details
Smoothing, correcting, and polishing your paint doesn't have to be a multi-step process, at least it isn't when you use Beyond Clay. Doing more than any one product could do alone, Beyond Clay restores faded paint to a factory gloss and removes swirl marks and light scratches, all while removing light surface contaminants. Each application leaves your paint smooth, glossy, and reflective. Don't let water spots ruin your car's finish forever. Beyond Clay can remove those too and it's safe for all surfaces including paint, glass, and even chrome or aluminum. Our proprietary Enthusiast Grade® blend of polishes, paint cleansers, and surface enhancers is the ultimate one stop solution to bring the factory luster out of your car's finish.
SKU 129
Special Instructions
Shake well. Buffer Use: Use a wool pad for moderate imperfections and foam pad for light imperfections. You can also use a wool pad first and then switch to a foam pad when the surface improves. Apply evenly to a cool clean surface. Begin buffing slowly using light to moderate pressure. Decrease pressure as imperfections disappear. Hand Use: Apply a small amount to area. Using a soft microfiber towel, rub affected area until you achieve the desired results.
Satisfaction Guaranteed
"Give our Enthusiast Grade® detailing products from Surf City Garage a try. If they're not the best you've EVER used, give me a call, and I'll PERSONALLY buy them back."
Tim Miller - Founder, Surf City Garage
SCG QUALITY
Restores factory gloss
Removes swirls and hard water spots
Makes a clay bar obsolete