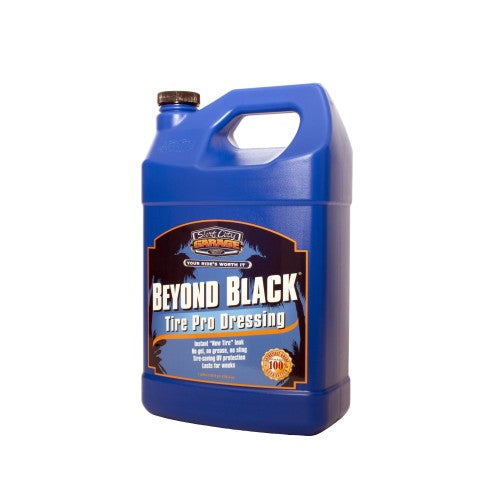 Beyond Black® Tire Dressing
$17.99
$0.00
Product Details
What goes best with clean shiny wheels? Tires that look brand new. Nothing else helps your ride look its best more than clean wheels and tires, so use Beyond Black Tire Dressing. It's got a no sling, no gel formula. No thick, glossy look here. Beyond Black puts that straight-off-the-showroom-floor shine on your tires. It even helps extend their life and protect them from UV rays. What could be better? Oh yeah – it lasts for weeks. Get Beyond Black and get the look of brand new tires.

SKU 104

MSDS SHEET
Special Instructions
(1) Shake before use. (2) Spray tire until fully coated. Spread with a clean cloth for an even shine. (3) Allow to dry before driving car. Warning: Do not use on motorcycle tires, seating surfaces, pedals or any surfaces that would be hazardous if slippery.
Satisfaction Guaranteed
"Give our Enthusiast Grade® detailing products from Surf City Garage a try. If they're not the best you've EVER used, give me a call, and I'll PERSONALLY buy them back."
Tim Miller - Founder, Surf City Garage
SCG QUALITY
Longest-lasting tire dressing on the market
Non-petroleum base penetrates tire so it will not attract dust
Non-greasy, non-gel formula will not sling